Prev

2019/01/21 ...insegnarci a vivere
2019/01/28 Aboubakar Soumahoro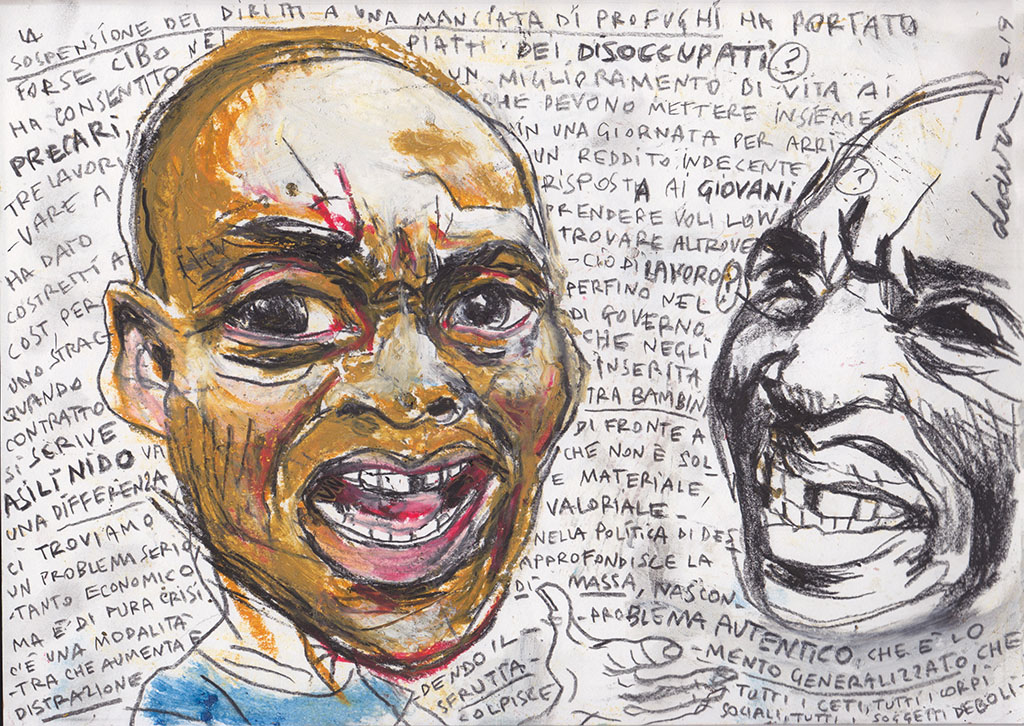 David Diavù Vecchiato, "Aboubakar Soumahoro". Graphite, oil paintstick on paper. Dimension cm 30 x 22. 2019.
For info write to: info@diavu.com
|||
David Diavù Vecchiato, "Aboubakar Soumahoro". Grafite, pastello a olio su carta. Formato cm 30 x 22. 2019.
Per informazioni: info@diavu.com
TEXT / TESTO:
«La sospensione dei diritti di una manciata di profughi ha portato forse cibo nei piatti dei disoccupati?
Ha consentito un miglioramento di vita ai precari, che devono mettere insieme tre lavori in una giornata per arrivare a un reddito indecente?
Ha dato risposta ai giovani costretti a prendere voli low cost, per trovare altrove uno straccio di lavoro?
Quando perfino nel contratto di governo si scrive che negli asili nido va inserita una differenza tra bambini, ci troviamo di fronte a un problema serio, che non è soltanto economico e materiale, ma è di pura crisi valoriale.
C'è una modalità della politica di destra che aumenta e approfondisce la distrazione di massa, nascondendo il problema autentico, che è lo sfruttamento generalizzato, che colpisce tutti i ceti, tutti i corpi sociali, tutti i soggetti deboli».
EX.T.R.A.
(Explicit Talks, Rumors, Arts)
EX.T.R.A. is an inconvenient experience.
Ask yourself unseemly questions, don't give to yourself reassuring answers. It's an exercise of freedom.
|||
EX.T.R.A. è un'esperienza scomoda.
Porsi domande scomode, non darsi risposte rassicuranti, è esercizio di libertà.