Prev

2019/01/19 Ego Te Absolvo
Next

2019/01/28 Aboubakar Soumahoro
2019/01/21 …insegnarci a vivere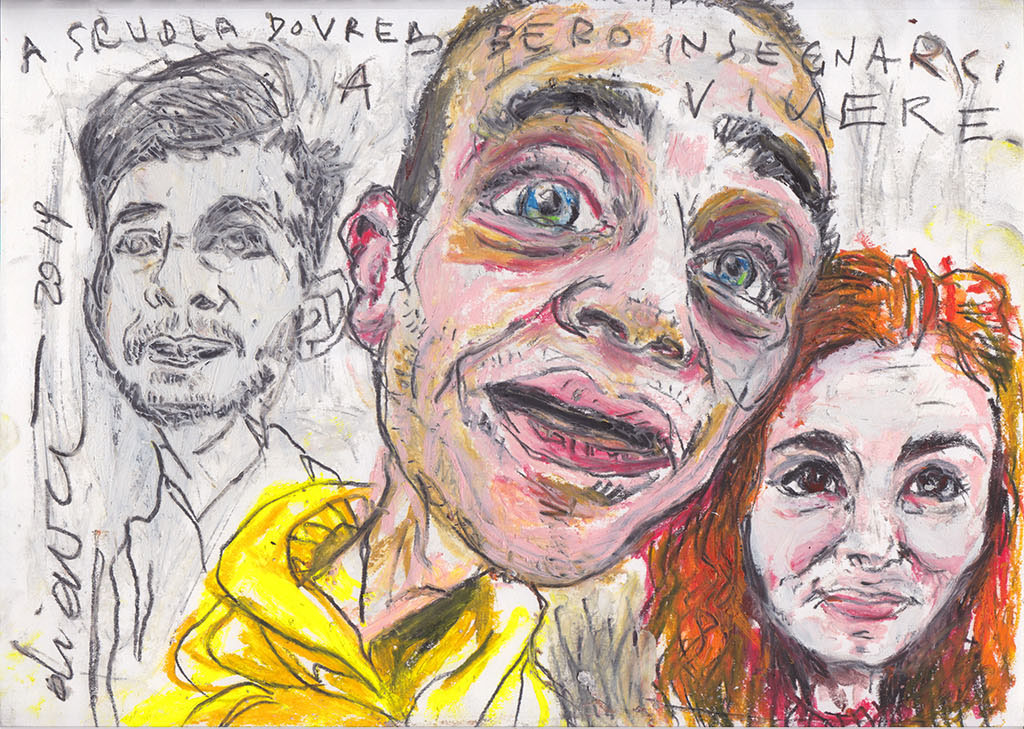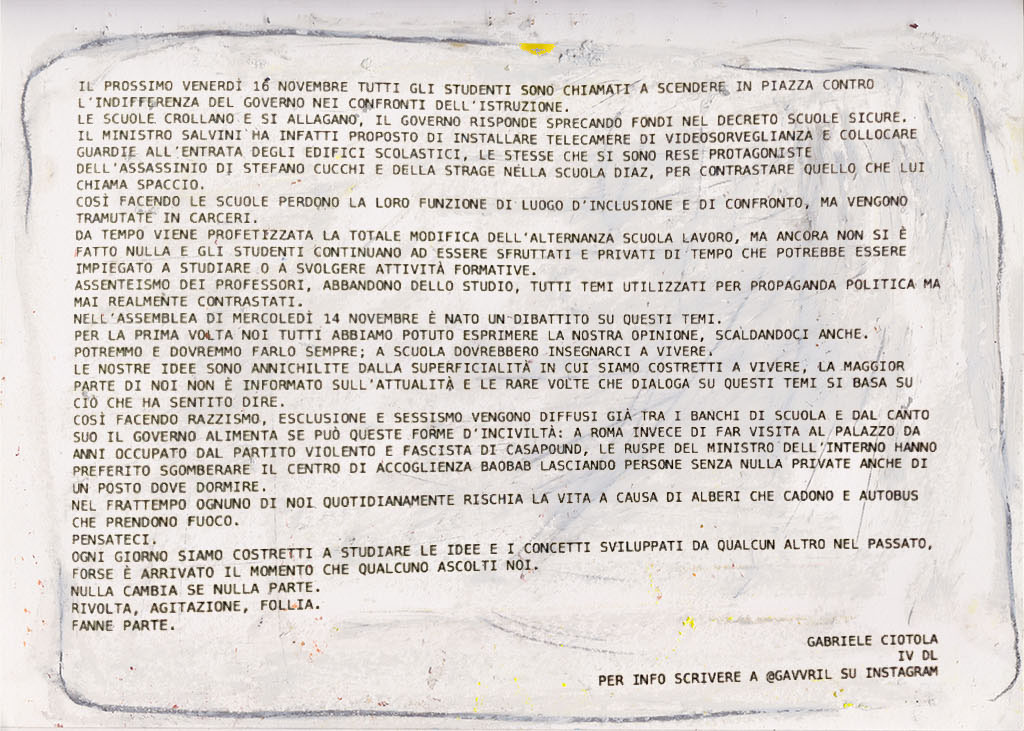 David Diavù Vecchiato, "…insegnarci a vivere (…learn to us to live)". Graphite, oil paintstick on paper. Dimension cm 30 x 22. 2019.
For info write to: info@diavu.com
|||
David Diavù Vecchiato, "Insegnarci a vivere". Grafite, pastello a olio su carta. Formato cm 30 x 22. 2019.
Per informazioni: info@diavu.com
TEXT / TESTO:
This morning at the Liceo linguistico Ettore Majorana in Rome, students, teachers and members of the institutions are inaugurating the new library of the school. A couple of months ago I made a workshop with Mirko Pierri (for a.DNA Project) for the students who painted the mural inside the new library, and a morning, during a break, I read this announcement signed by one of them and addressed to all his fellow students. I'd like to dedicate today's sketch to this beautiful example of political awareness, that many adults don't have.
|||
Stamattina si sta inaugurando la nuova libreria del Liceo linguistico Ettore Majorana di Roma dove un paio di mesi fa, con Mirko Pierri per @a_dna_project ho realizzato un workshop agli studenti che hanno dipinto il murale della nuova biblioteca e, una mattina, durante una pausa, ho letto questo comunicato firmato proprio da uno di loro e rivolto a tutti i suoi colleghi. Dedico lo sketch di oggi a questo bell'esempio di consapevolezza politica che molti adulti dimostrano di non avere.
EX.T.R.A.
(Explicit Talks, Rumors, Arts)
EX.T.R.A. is an inconvenient experience.
Ask yourself unseemly questions, don't give to yourself reassuring answers. It's an exercise of freedom.
|||
EX.T.R.A. è un'esperienza scomoda.
Porsi domande scomode, non darsi risposte rassicuranti, è esercizio di libertà.